SALE OF MALU WILZ COSMETICS TO MALU-WILZ.SHOP TO YOUR COSMETICS CUSTOMERS
for stationary Malu Wilz costumers or beauticians
You can sell the entire Malu Wilz cosmetic range online to your end customers from April 1st, 2020. We send the cosmetics to your customers and can therefore offer you a top service for the current situation.
What does the Malu-Wilz.shop offer?
Your customers can buy free of charge from an order value of EUR 20.00 and have the option of paying with PayPal, credit card, direct debit, instant transfer and invoice. You also have the option to select samples for each purchase.
How do you benefit from this as a Malu Wilz partner?
Your customers' purchases will be displayed in your partner account at Malu-Wilz.shop. Your customers' purchases add up to a sales sum. You will receive a 20% commission on the sales amount of your customers as a goods credit, which you can redeem when placing an order by phone or placing an order via the sales force. Sales are billed monthly. marketing@malu-wilz-beaute.com is available for any questions.
How can I track the status of my sales account at Malu-Wilz.shop?
If you have logged in to www.malu-wilz.shop, you will see a button "Partner area" on the right side. All sales made under your Malu Wilz costumer ID are shown here (net). We are currently working on making this number available to you as a gross amount.
GUIDE FOR OPENING A PARTNER ACCOUNT
Here you can find out how to open your partner account and how your cosmetic customers can use the online offer so that it is credited to your partner sales account.

1. Register at https://www.malu-wilz.shop/for-make-up-artists
Click the red button "Apply for a MALU WILZ COSMETICIAN CUSTOMER ACCOUNT" here: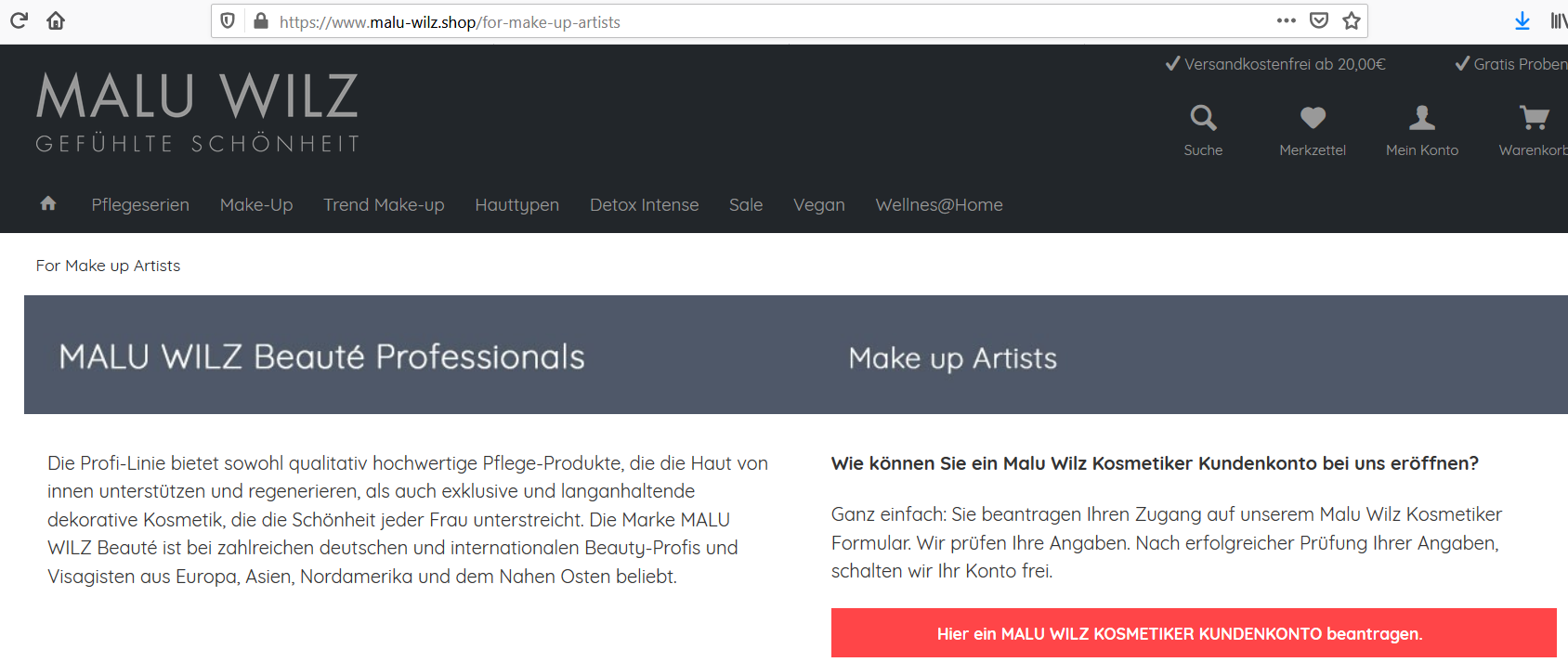 2. Enter your personal data in the form and check that your email address is spelled correctly.

At company, please enter the name of your cosmetic institute.
At Malu Wilz dealer number, please enter your Malu Wilz costumer ID
For the address, please use the address with which you are registered with Malu Wilz.

When you have checked all the data, please go on. Your data is thus stored in the system.

3. Your details and your Malu Wilz costumer ID will be checked. Then your Malu Wilz partner account will be activated. This process can take about 1-2 hours. (Monday - Friday, 9 a.m. - 4 p.m.)

4. After successful activation you will receive a confirmation email. Only then will your partner account be activated for you and your customers. You will receive a link with the confirmation email. You pass this on to your customers, include it on your homepage or share it on social media. Only purchases made via this link will be credited to your customer account.

5. You can log in at any time at www.malu-wilz.shop and call up an overview of the purchases already made under "Sales".

6. In the event of technical problems, please only send an email to info@malu-wilz.shop. (Monday - Friday, 9 a.m. - 4 p.m.)