The new bronzing look Ocean Flair puts summer in the face! Feathery, velvety textures and self-coloring pigments ensure a sun-kissed complexion and natural, seductively shiny lips. So you get a fresh complexion in seconds!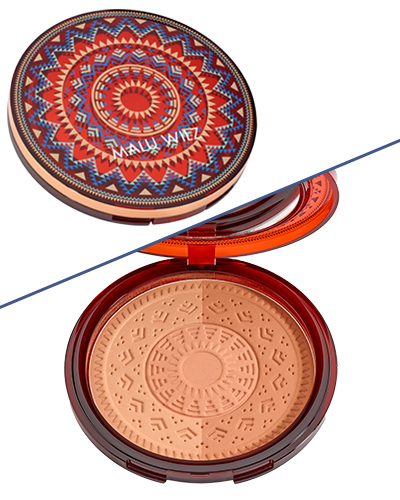 BRONZING POWDER
Inspired by a Mediterranean lifestyle, the new BRONZING POWDER OCEAN FLAIR is presented in a limited can with warm sand and refreshing water nuances. The elegant packaging harmonises perfectly with the design on the tanning powder in three coordinated color shades. The feather-light, velvety texture gives you a sun-kissed complexion in no time at all. Subtle pearl pigments give a naturally radiant finish.
KABUKI BRUSH
The perfect addition: the KABUKI BRUSH. It is perfect for application on the face as well as on the cleavage and shoulders.
NATURAL GLOW LIP BALM
The best-selling NATURAL GLOW LIP BALM complements the summer look with three limited colors. "Perfect Nude" is the neutral companion for a delicate make-up, "Classic Rose" tones the lips in a richer shade and "Bubble Pink" gives radiant nuances. Self-coloring pigments combine with the surface of the lips and emphasize them individually. Valuable vegetable oils protect against moisture loss and guarantee delicate, sexy lips.